Soft at Heart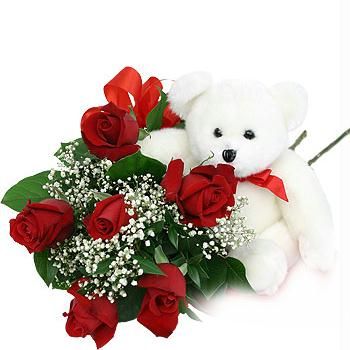 Price : Rs. 849.00
The 10 red rose bunch is a bright and a beautiful way to send your love and affection across miles! with 6 in.. cute teddy bear.
Buy Now
Cute Teddy Bear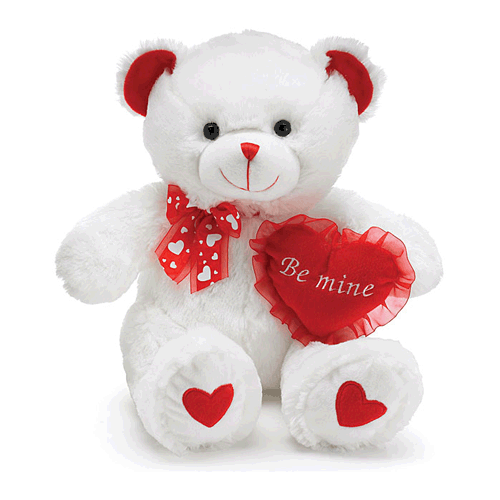 Price : Rs.555.00
A cute little teddy bear holding a red heart, height 6 inches will send the message of your heart to your loved ones.


Buy Now
Choco Gerbs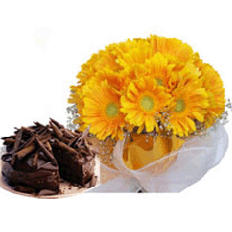 Price : Rs. 1150.00
Fill the day of your loved ones with lots of sunshine and sweetness, by

sending this them bunch of 15 mixed Yellow gerberas and 1/2 kg chcolate Cake combo.
Buy Now
Sunshine Gift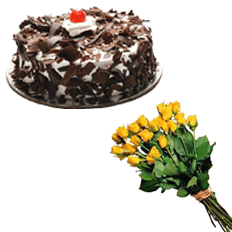 Price : Rs. 1150.00
You can convey the words of your heart to your loved ones with Delicious 1/2 kg black forest cake and 12 yellow roses hand bunch.
Buy Now
Flowers with chocolatese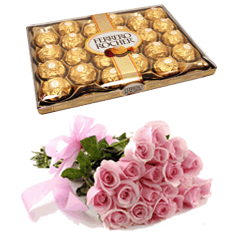 Price : Rs. 2450.00
Here is a bunch of 24 gorgeous premium pink roses with green dracaena leaves and 24pcs of fererro rocher chocolates to create an incredible presentation to sweep your sweetheart off their feet.
Buy Now
Jazz Up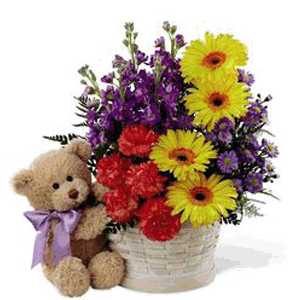 Price : Rs.1087.00
mixed flowers arranged beautifully in a cane basket with hanging teddy bear. The lovely arrangement in a heart is a wonderful gift that any loved one in your life will adore.


Buy Now
Surprise For Birthday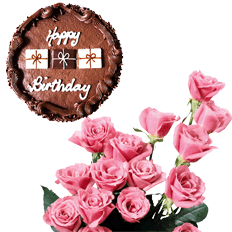 Price : 1099.00
Wonderful Mashup to express your feelings to your most loved ones with 500gms of delicious chocolate cake with bunch of 12 pink roses bunch


Buy Now
Red Surprise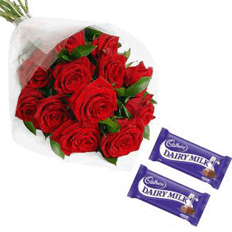 Price : Rs. 799.00
A perfect combo consisting of a bunch of 12 red roses neatly bunched together in a cellophane packing with 2 pair of Cadbury's chocolates
Buy Now
Black forest Cake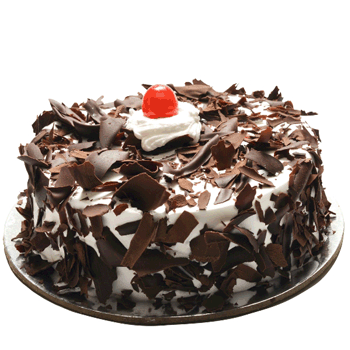 Price : Rs.1099.00
This 1 kg black forest cake is a simple yet perfect way of expressing your love.
Buy Now
Choco Carnations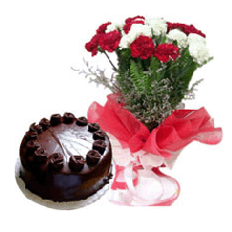 Price : Rs. 1450.00
Roses are a symbol of love and the thing which completes it all is when a chocolate cake is clubbed in this combo.1/2 kg Delicious chocolate cake filled with rich chocolate and 20 Red and White Carnations bunch.


Buy Now
Wishful Love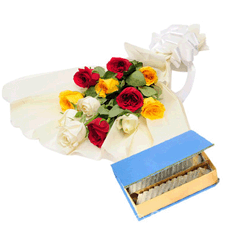 Price : Rs. 1450.00

Bunch of 4 Red Roses, 4 Yellow Roses, 4 white roses in paper packing with white ribbon now and 500gm Kaju Katli Sweet from Good Confectionery.


Buy Now
Combo Colors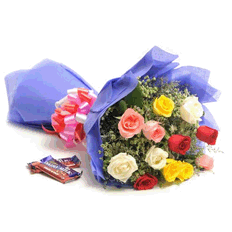 Price : Rs. 749.00
Surprise your loved ones with a personalized 2 Fruit N Nut Chocolates (42gm each) and Bunch of 12 long stem Mix colour roses in a paper packing
Combo Packs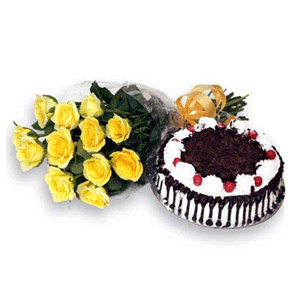 Price : Rs.1249.00
Yellow roses symbolise joy and cheer that conveys the message "I Love You and You make me Happy" 12 Yellow rose magical bunch with 1/2 kg black forest cake
Buy Now